Raising the Bar - Irish Artisan Chocolate Makers
The worldwide demand for chocolate confectionery is increasing, and the EU is the world's largest producer and consumer. In Ireland, our per capita consumption stands at 3.6 kilograms. For comparison, the largest chocolate consumers in the world are the Germans, with a per capita consumption of 11 kilograms per year.
The market for premium and organic chocolate confectionery is also growing. Health-conscious consumers are driving this trend. They are looking for chocolate products with high levels of cacao solids and lower sugar levels.
It wasn't that long ago that if you wanted premium chocolates, you had to make the trip across the water to continental Europe. But that isn't the case anymore, as nowadays, you can find artisan chocolate producers across Ireland creating luxurious small-batch chocolate to rival those made in France or Switzerland.
The chocolate made in Ireland isn't just an imitation of what has gone before. Irish chocolate stands apart from the crowd with its unique texture and taste, which is down to local ingredients, especially dairy products.
Irish cows munch on the lush green grass in fields filled with wildflowers. The milk from these cows is high in natural beta-carotene, which gives it a rich and creamy taste and gives Irish chocolate the same characteristics.
It's not just about the raw ingredients; what you do with them counts. All across the country, talented chocolatiers and chocolate makers brimming with creativity turn these raw ingredients into visually delightful and delicious Irish craft chocolate.
But what is the difference between a chocolate maker and a chocolatier?
A chocolatier makes chocolate products using high-quality couverture chocolate. They source the chocolate; they do not make it themselves.
For example, some Irish chocolatiers purchase couverture from Belgium. They blend this with local ingredients to conjure up confectionery like flavoured bars, bonbons, truffles and pralines.
On the other hand, a chocolate maker buys cocoa beans and turns these into chocolate. These are usually called bean-to-bar chocolate makers.
Bean-to-bar is time-consuming and labour-intensive. Chocolate makers roast, peel, separate the cocoa nib from the husk and grind the cocoa nibs themselves.
In Ireland, a few artisan producers make their chocolate which they then use to make chocolate products.
To make plain chocolate, all that is needed is cocoa mass, cocoa butter, and sugar. 
To make milk chocolate, you add milk powder to the above ingredients. 
To make white chocolate, all that is needed is cocoa butter, sugar and milk powder.
Chocolate makers then mix these ingredients into a smooth dough, which they finely roll to ensure the chocolate is as smooth and granule-free as possible.
The next step is conching, a long process of intense mixing, agitating, and aerating of heated liquid chocolate, which gives the chocolate its final aroma, flavour and texture.
Following this, the chocolate is tempered — a heating and cooling process stabilising chocolate for making candies and confections.
Tempering makes smooth, glossy, evenly coloured chocolate. Then, the tempered chocolate is poured into moulds to attain its final shape.
What is Single Origin Chocolate?
Single-origin means that the chocolate maker uses cacao beans from one specific place.
The cacao beans' country of origin is stated clearly on the packaging.
What is Blended Chocolate?
Blended means that the chocolate maker uses cacao beans from various places.
What is Fair Trade Chocolate?
Fair Trade means the chocolate maker has attained a fair trade certification and has Fair Trade as the central ethos guiding their activities.
They take an ethical standpoint and consider the producers first.
Is your mouth watering yet? 
So who are the Irish artisan chocolate makers raising the bar? Let's meet the makers of the Good Food Ireland® Collection.
View All Our Delicious Hampers
We Offer a Range of Hampers Containing Irish Arstisan Food & Drink for Every Taste & Budget
Good Food Ireland® Approved Chocolatiers
Arcane Chocolate by Erik Van der Veken
Erik is a creative chocolatier from Belgium, where they know a thing or two about exquisite chocolate.
He trained in the art of chocolate in his native Antwerp before working in prestigious kitchens in London and the Middle East and then moving to Ireland in 2015. He founded Arcane Chocolate in 2019.
His artistic flair is evident in his colourful, eye-catching creations — his Easter eggs give Fabergé a run for its money. 
Erik uses beautiful couverture from esteemed chocolate brand Cacao Barry and masterfully blends this with local ingredients and some more exotic flavours to create delicious chocolates.
For example, he encases Irish wildflower honey and Bushmills Black Bush Whiskey Irish Whiskey in the finest cacao to produce a chocolate that is a pure taste of the island. 
He also beautifully marries the local and exotic. For example, his caramel creation features luscious Irish butter caramel perfumed with Tahitian vanilla.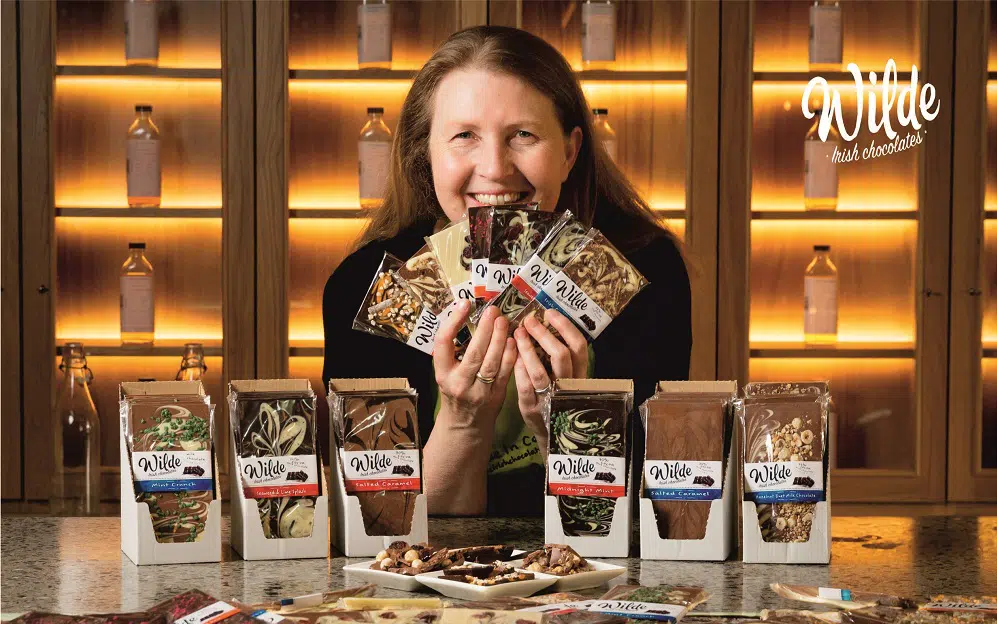 In 1997, husband and wife team Patricia and Con Farrell opened their chocolate factory not far from the shores of Lough Derg in Co Clare. And they are still here today, producing their award-winning, handmade, small-batch chocolates. 
Patricia uses couverture made from cocoa beans primarily sourced from West Africa from sustainably sourced farms.
This couverture is melted, tempered, and turned into marvellous, mouth-watering creations.
With over 80 different chocolate products, they have something to suit all tastes.
For something uniquely Irish, sink your teeth into the smooth fudge flavoured with Irish cream liqueur or enjoy a square of the Dark Chocolate Seaweed and Lime bar made with dillisk harvested along the Wild Atlantic Way.
The Chocolate Garden of Ireland
In 2001, husband and wife Jim and Mary Healy set up The Chocolate Garden of Ireland, which is now an award-winning family business that produces handmade chocolates, bars and confections at their factory in Carlow.
Their chocolate creations come in all sorts of quirky shapes and sizes, and the fillings are fun and flavoursome. For example, they make a white chocolate morsel shaped like an almond that encases a creamy banoffee filling.
They also have a smooth dark chocolate sphere surrounding a decadent dark cherry crème, dark chocolate with Amaretto and truffles spiked with Kilbeggan whiskey.
Chez Emily Handmade Chocolates
Chez Emily marries the freshest local ingredients with the highest quality Belgian chocolate.
It is a perfect match, much like its creators, husband and wife Ferdinand Vandaele, from Belgium and Helena Hemeryck, from Ireland, who set up the business in 1994.
Ferdinand honed his craft alongside master chocolatiers in Belgium. Now, alongside his wife, they create handmade chocolates in Dublin.
Ferdinand uses traditional recipes to craft over 30 different chocolates, which delight the eyes and mouth.
Chez Emily chocolates are genuinely traditional, thoughtful and tasty. For example, the evocative "summer dream" is silky milk chocolate shaped like a strawberry that tastes like fresh summer strawberries.
Chez Emily also produces slabs of chocolate, which come in nostalgic flavours of rocky road, macaroon, and fruit and nut.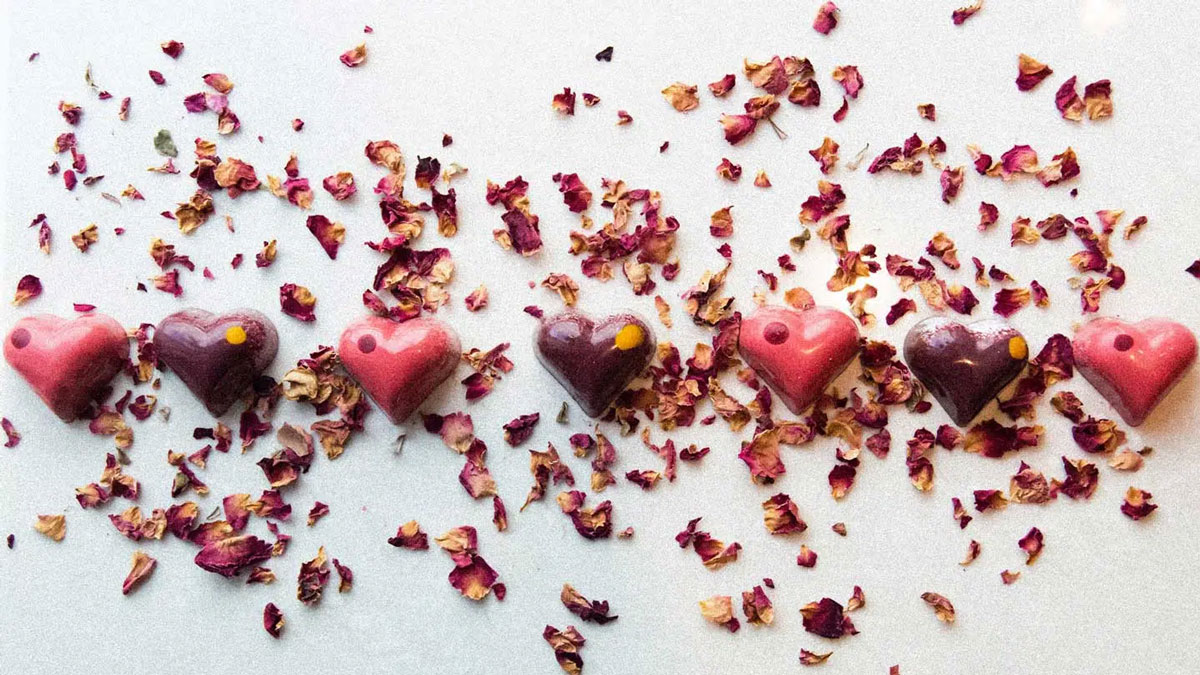 Koko of Kinsale encapsulates the flavours of Cork in cocoa creations.
Chocolatier Frank Keane artfully incorporates local ingredients into his creations, including seaweed, honey, lavender, and mint from his garden.
Frank is also inspired by the sights and flavours he experiences on his worldly travels, which make for a diverse and delectable selection of chocolates.
Koko of Kinsale chocolates are presented beautifully in a bright orange box, which looks like a hardback book. Inside, you'll find milk chocolate domes filled with Kinsale Gin and orange for a taste of Cork.
These rub shoulders with white chocolate shells filled with cardamom and Turkish honeycomb.
Koko of Kinsale really gives you a taste of both the foreign and familiar, fabulously presented.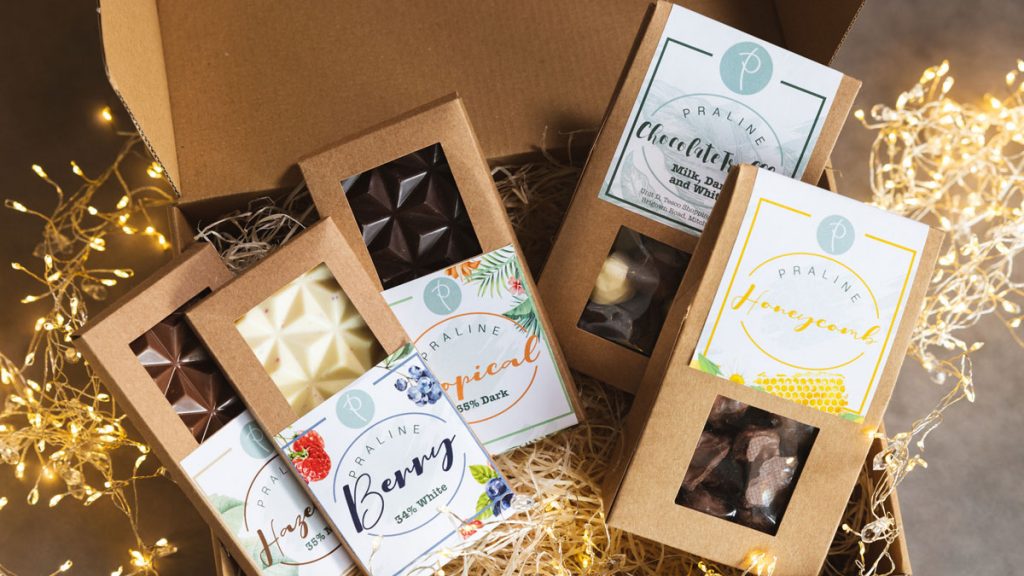 Talented pastry chef and chocolatier Norma Kelly founded Praline in 2017 in Mitchelstown, Co Cork.
Norma's love of baking stems from her childhood, and following stays across Ireland and Europe in culinary institutions, she returned to her hometown and set up the business.
Norma and her team at Praline produce award-winning handmade artisan white, dark and milk chocolate truffles and bars.
They make the chocolates in small batches to ensure they are always fresh.
At Praline's North Cork pantry and shop, you can enjoy chocolate bars with delicious flavours such as hazelnut or berry.
You can also try the wildly popular tropical — a single-origin 64 per cent dark chocolate bar with pieces of freeze-dried mango, passionfruit and pineapple.
You'll also find a great selection of artisan chocolate truffles.
Good Food Ireland® Chocolate Experiences
Wilde Irish Chocolates Factory Tour
Have you ever wondered how artisan producers make delicious Irish chocolate?
If the answer is "yes", then take a workshop tour with Wilde Irish Chocolates, where you can delight your tastebuds and discover the wonder of chocolate making.
You'll be mesmerised as you watch the melted chocolate churring around in the tempering machine and see the skilled artists creating all types of chocolate by hand right before your eyes.
Good Food Ireland® has a beautiful selection of premium Irish artisan chocolate gift hampers in our online shop.
We have something for almost all budgets and all occasions — not just Easter or Christmas.