Looking for fantastic Irish food- and drink-inspired Father's Day gifts? Well, look no further! We've handpicked some perfect presents for home cooks, BBQ kings, cocktail lovers, drinks aficionados and gourmands. Best of all, everything on this list comes from an Irish business and approved Good Food Ireland® member. Furthermore, many of our gifts can be shipped worldwide, meaning you can show your dad you care across the miles.
So, whatever your budget, you are bound to find a wonderful, Irish gift for your father or father-figure who loves good food and drink.
Father's Day Food Gift Hampers
There are many wonderful artisan producers around the country putting together exquisite Irish food and drink hampers for Father's Day. Here are just a few we are loving.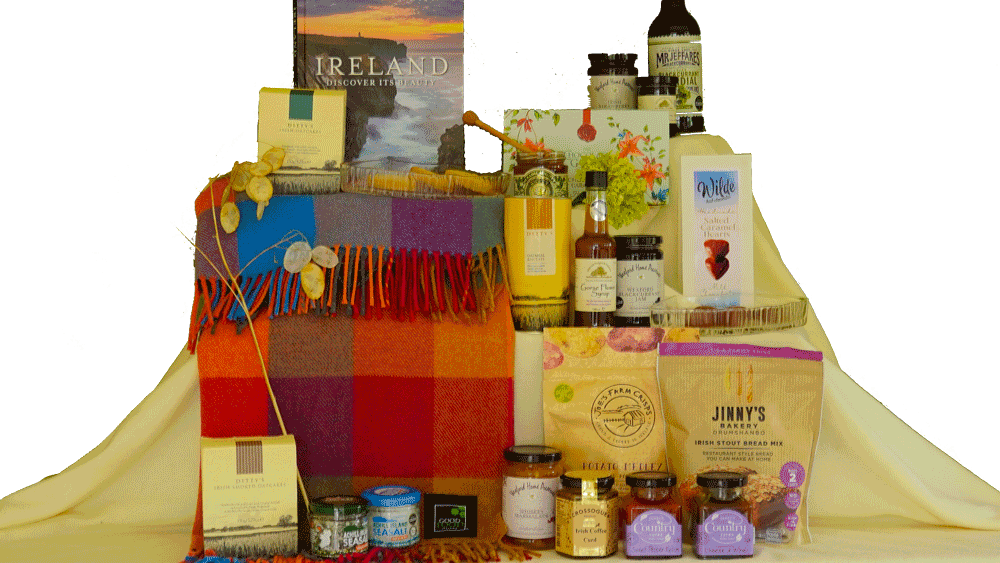 A Good Food Ireland® hamper is extra special as it is filled with Irish artisan products selected from our approved Collection of Makers. Our Best of Ireland Hamper is a taste tour of the island and is brimming with a bounty of beautiful food and drink. It also comes with our exclusive super-soft 100% lambswool throw and Carsten Krieger's evocative landscape photography book. This hamper gives the recipient an authentic taste of Ireland delivered straight to their door.
Is your father a fan of foraging? Then this unique gift is sure to delight him. Inside he'll find a selection of natural Irish foraged produce all handmade by local foragers. These include salts, shrubs, syrups, honey and jelly. The hamper also contains the beautiful book Wild Food by Evan Doyle – founder of the Strawberry Tree, Ireland's first certified Organic Restaurant. This book reveals the secrets of identifying, picking, preserving and cooking the wild foods that grow in our hedgerows, woodlands, hillsides or seashore. The hamper also has an exclusive Good Food Ireland® Irish linen shopper bag to store all the foraged bits.
Give your dad a perfect pairing this Father's Day with the Good Food Ireland® Crisps and Ale Hamper. This delicious gift set includes two craft ales from the Dew Drop Inn Brewhouse in Kildare, which produces interesting beers full of hoppy goodness. Of course, all good beers need good snacks and this gift set comes with plenty of packets of crisps, but not just any crisps, these are crisps bursting with the flavours of Ireland. There are Joe's Farm beetroot crisps and Keogh's potato crisps in a variety of flavours including shamrock and sour cream, and Guinness and flame-grilled steak. Also included is an exclusively designed Good Food Ireland® 100% cotton apron inspired by the Irish legend the Salmon on Knowledge.
Cookbooks Perfect for Father's Day
A beautiful cookbook is always a welcome gift, even for food lovers who prefer eating out to cooking. Cookbooks are designed to inspire kitchen creativity, but there are also lots of gorgeous coffee table books for those who just like looking at fabulous food photography.


The Irish Beef Book is a collaboration between well-known butcher, Pat Whelan, and food writer, Katy McGuinness. It is the definitive guide to Irish beef, covering everything from buying to preparing to cooking it. Pat shares his wealth of knowledge on farming, butchery and buying the very best beef available to you. Katy shows you how to create delicious dishes using every part of the animal. This book is the perfect present for fathers with an interest in nose-to-tail cooking as well as carnivores and anyone you'd like to spend more time in the kitchen.


If your father has a grá of kombucha, kefir, kimchi and other live culture delights, then pick him up a copy of The Cultured Club by Dearbhla Reynolds – no doubt he'll get a kick out of the punny title too. Dearbhla Reynolds is an expert in the art of making fermented and cultured foods and her book covers a brief history of fermentation before showing, in a wonderfully accessible way, how to give it a go yourself. Your father will be a fermentation fiend after receiving this gift.


If your dad isn't a whizz in the kitchen, yet, he soon will be once he has worked his way through the recipes in Learn to Cook with Neven. One of the most well-known and loved chefs in Ireland, Neven Maguire is also the head chef and proprietor of MacNean House and Restaurant. The four-step recipes are easy to follow and produce great results. Soon your dad will be cooking up a storm and creating fabulous dishes like quiche, tasty lamb samosas, marmalade chicken and hazelnut yoghurt brown bread.
Father's Day Gifts for Drink Aficionados
Toast the dad in your life with these tasty drinks-based Father's Day gift ideas.


You'll never hear the end of him asking 'shaken or stirred?' in a dodgy Scottish accent, as he learns the art of cocktail making with this gorgeous gift box. Plus, you'll get to sip all his creative drinks concoctions — it's the gift that keeps on giving! The Cocktail Lovers Box contains Monika Coghlan's book Craft Cocktails: A collection of recipes and stories from Ireland's spirit makers, as well as a delicious selection of Irish artisan ingredients to help your dad become the best mixologist in the house. The gift box also contains Irish artisan snacks to accompany the drinks. You can taste Ireland in every sip.


Peter Mulryan is the chief executive of Blackwater Distillery in Ballyduff, Co Waterford. His book, The Whiskeys of Ireland, takes a look at the social history of Ireland, viewed through the lens of a distiller, and takes you right up to modern times and the explosion of new distilleries all across the island. It also explains how whiskey is made and the difference between single malts, blends, and pot-still whiskeys, as well as the art of distilling and blending. Your dad will also become an expert at tasting as he learns how to explore the different flavours found in Irish whiskey and where they come from.


If your dad's tipple of choice is gin, then a tour and tasting of a distillery is a terrific treat. At the Wild Atlantic Distillery in County Tyrone, under the expert guidance of Master Distillers Brian and Jim, who also happen to be brothers-in-law, your dad will be fully immersed in the wonderful world of gin distilling. Brian and Jim guide guests through the distilling process and your dad will get a chance to manage his own copper still and make his own gin. He'll get to hand-select the botanicals before bottling and hand labelling his very own bottle of self distilled gin.
Father's Day Experiences
When you think someone is the best, give them the best, and the Good Food Ireland® experiences are the best that Ireland has to offer. These experiences tell the unique food and drink story of our island through wonderful workshops and terrific tours and tastings.


Take your dad on a trip out west to meet the Calvey family and their flock of wild Mayo Blackface Mountain Sheep. On the Achill Island Farm Tour, your dad can marvel at the sheepdogs as they herd flocks of wild sheep and see the sheep being sheared using old-fashioned hand shears.
The farm experience finishes with a warming, comforting bowl of Achill Mountain Lamb stew for a pure taste of the wild Mayo landscape. This is an authentic 'remote rural' sheep farming experience and a true-to-life window into the vernacular, the local culture and the craic.


Howth lives up to its reputation for having some of the best seafood restaurants in Ireland and Mark McHale brings guests to his favourites on this Craft Beer and Seafood Trail. As your dad strolls, Mark takes the group through the history of this pretty harbour village. There are also opportunities to chat with local fishermen and meet the local colony of seals and other wildlife. Along the way, your dad will get to taste the best locally caught seafood, which might include mussels, Dublin bay prawns, oysters, shrimp, as well as hearty seafood chowder all washed down with some fine, local craft beers.


Your dad will discover the culinary delights of the West on this gourmet excursion around Galway City with tour guide Sheena Dignam. Galway has a rich and varied food scene, and on a tour, your dad will taste delicious morsels from artisan producers, cheesemakers, creative brewers, artisan chocolatiers, traditional family-run businesses and young entrepreneurs. He'll also have a chance to chat with the passionate producers and to see the sights of this lively city with a local tour guide. He'll even get to take a little bit of Galway home with him in his gift bag.
Father's Day Gourmet Getaways
Good Food Ireland® has a range of incredible gourmet getaway offers all across the island of Ireland for food-loving fathers.
Treat your dad to a day out in beautiful Armagh to enjoy an immersive experience on the McKeever family farm where he'll see the whole cider making process from beginning to end. Start the day with a walk through the pretty orchard to learn about the plantations before visiting the cold storage and pressing and blending facilities — where the magic happens. Then there's a visit to the apple cider vinegar room. Next up is an enjoyable cookery demo of traditional griddle bread. Then it's time to sit back, relax and tuck into hot soda farls with local cheese and chutneys. There are also plenty of opportunities to sample some of the delicious apple cider vinegar, craft ciders and apple juice.
If your dad is a fan of luxury and local cuisine, he'll love this gourmet getaway to brilliant Belfast. Standing gracefully in the heart of the city, the Grand Central Hotel exudes elegance and charm. The hotel's food and drink offerings feature plenty of locally sourced produce, which will give your dad a true taste of Northern Ireland. The menus change with the seasons and the dishes are artfully presented and served with a smile. The Observatory – the highest cocktail bar in Ireland – is the marvellous setting for the lavish afternoon tea for two that comes with panoramic views. After a comfortable night's sleep in one of the deluxe bedrooms, your dad and his guest can enjoy a bounteous breakfast that has everything from a full Irish to boozy Bushmills Whiskey porridge made with Armagh oats.
Father's Day Gift Vouchers
Gift vouchers make great Father's Day presents, as they allow your dad to choose what to buy. You are giving him the flexibility and freedom to get what he really wants. Good Food Ireland® gift vouchers are a great choice for everyone who loves great Irish hospitality and local food and drink. 
The restaurant gift voucher is ideal for those who love to dine out as it can be used in the Good Food Ireland® Collection of hotels, restaurants, cookery schools and with food and drink producers all over the island of Ireland.